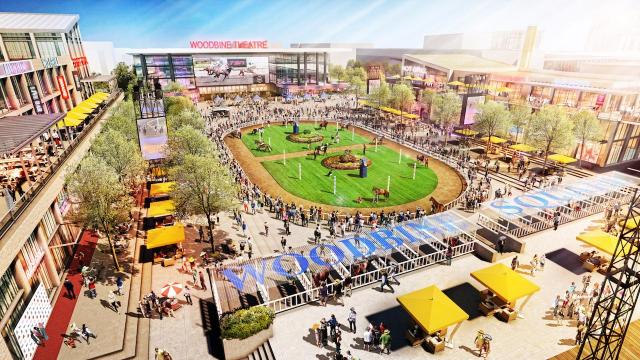 juin 16, 2016

WOODBINE ENTERTAINMENT GROUP SELECTS SWA GROUP AS MASTER PLANNER

Article by: HBPA Ontario

Direct link: http://www.hbpa.on.ca/news-and-updates/woodbine-entertainment-group-selects-swa-group-as-master-planner/

Woodbine Entertainment Group (WEG) today announced that it has selected SWA Group, a leading landscape architecture, planning and urban design firm, to create the master plan to guide the long-term vision for Woodbine's overall development and expanded entertainment offering across its 680 acres of largely undeveloped land.  SWA Group was chosen from a short list of international firms with expertise in the master planning of large-scale urban destinations, through an invitation-only Request for Proposals process lead by LiveWorkLearnPlay (LWLP), WEG's development consultants. Assisting SWA will be BCV Architects and Nelson Nygaard.

"This is a big step forward in our plan to transform Woodbine into a leading entertainment destination in Toronto. We know SWA is the right partner for the job," said Jim Lawson, CEO of WEG. "Most people don't realize that we have the largest piece of privately owned, undeveloped land in Toronto here at Woodbine. Our vision is to unlock the value of the property by creating a city within a city that brings a range of dynamic offerings to people within the GTA, with the goal of building a sustainable foundation and economic future for horseracing in Ontario."

Ontario Lottery and Gaming (OLG) is in the midst of a selection process for an operator to oversee expanded gaming operations at the Woodbine site, which will bring live table games, expanded and modernized slots and a greatly enhanced gaming environment to what is already Canada's most popular gaming facility.  In conjunction with the anticipated expansion of the gaming operations, WEG is embarking on a large-scale redevelopment of the adjacent lands to create a dynamic mixed-use district that integrates entertainment, recreation, racing, gaming, dining, education, employment, residential living and more.  The redevelopment plans are subject to meeting a number of conditions established by Toronto City Council in 2015 when it approved expanded gaming as a willing host municipality at Woodbine Racetrack.

The master plan, once finalized, will bring to life Woodbine's vision of a vibrant gaming, entertainment and horse racing destination, all integrated into a diverse new district that responsibly contributes to its surrounding community. The mixed-use development is expected to create new jobs and bring further economic vibrancy to northwest Toronto, attract a broad range of Torontonians and visitors, and spark a renewed interest in horseracing and gaming in the province.

Woodbine, LWLP and SWA will continue to work closely with the City of Toronto and OLG to determine the exact components of this new district, but can confirm that an initial phase of development will include the previously announced 165,000 square-foot entertainment venue seating 5,000 people, in partnership with Trinity Development Group Inc.

"At SWA, we have had the privilege to work on many high-profile, large-scale projects around the world and are proud to be able to contribute to crafting Woodbine's future," said Sean O'Malley, Managing Principal of SWA's Laguna Beach studio. "By bringing together an appreciation for nature and a strong commitment to design and sustainability, we look for the intrinsic value in every site that will best meet the needs of our client and the communities they serve. Woodbine has so much opportunity and we are excited to get started."

SWA is a world leader in planning creative communities which integrate multiple uses. Among many projects, it has worked on the master plan for Disney World; the groundscape for the world's tallest building, the Burj Khalifa in Dubai; the Long Beach, California, shoreline redevelopment plan; and the master plan and landscape concepts for the 2018 Olympic Nordic complex in PyeongChang, Korea.

"Bringing this vision to life is an important milestone for us and we are lucky to have great partners like SWA, LWLP, Trinity Development Group Inc. and the OLG to work with along the way," added Lawson. "We are excited to get down to work and can't wait to share our final plans with the community."

"WEG has an ambitious vision for Woodbine's redevelopment, and we are honoured to be working with them and SWA to realize it," said Richard Martz, Partner and Principal of LWLP. "It is a once-in-a-lifetime, city-building opportunity to become the heart of, and transform, northwest Toronto by delivering something that has never been seen in the GTA. We have the potential to create not just a project, but a world-famous place that celebrates the rich history of horse racing in Ontario and integrates it into the fabric of a vibrant, dynamic complete community."

About Woodbine Entertainment Group

With roots dating back to 1881, Woodbine Entertainment Group is the largest horse racing operator in Canada, showcasing world-renowned horse racing at Woodbine Racetrack (Toronto), home of the iconic Queen's Plate, and Mohawk Racetrack (Milton), host of the storied Pepsi North America Cup. WEG is the leading member of the Standardbred Alliance and the single operator of Teletheatres and Account Wagering, available through www.HPIbet.com, in Ontario. WEG also operates HPItv, a CRTC licensed digital television channel that broadcasts racing into homes across Canada. Woodbine Entertainment is designated as a Caring Company with Imagine Canada, and gives back through WEGcares Community Investment Program.

About SWA Group

Established in 1957, SWA is an international landscape architecture, planning, and urban design firm with eight studio-based offices in the United States, China and the United Arab Emirates. They are committed to design that results in beauty, sustainability and social well-being. Their projects, spanning more than 60 countries, have garnered more than 800 awards, and many of their principals are widely acknowledged as among the industry's most innovative and experienced designers and planners. Their master planning initiatives have helped create new neighbourhoods, towns and cities all over the world. SWA's efforts at Woodbine are being led by Sean O'Malley, Managing Principal of their studio in Laguna Beach, California, who has over 27 years of broad-based international experience in all aspects of large-scale planning and construction.