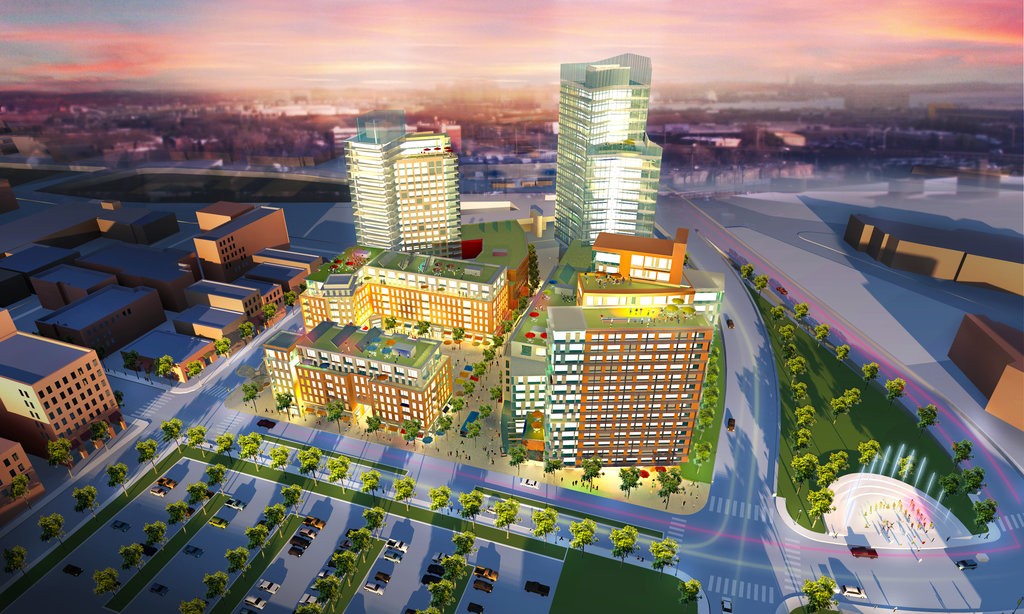 décembre 3, 2013

Coliseum Site Poised For Redevelopment Next Year

Article by: KENNETH R. GOSSELIN, Hartford Courant

Direct Link: http://articles.courant.com/2013-12-03/business/hc-new-haven-coliseum-redevelopment-20131203_1_lwlp-max-reim-live-work-learn-play

The redevelopment of the long-vacant New Haven Coliseum property could begin as soon as next summer, the developer says, now that a key agreement with the developer has been approved by the city.

The Montreal-based developer, Live Work Learn Play, plans a $360 million development of hundreds of residential units, a hotel, an office tower, shops, restaurants and public spaces. The development is part of an even larger vision to stitch back together New Haven's downtown, divided in the 1960s by the Route 34 connector, which was never finished.

« This will create a brand new sense of arrival into New Haven, » Max Reim, LWLP's co-managing partner and founding principal, said Tuesday. « Highways will give way to mixed-use urban boulevards. We'll be reconnecting neighborhoods. »

Late Monday, New Haven's board of aldermen approved a development and land transfer agreement with LWLP and helped clear the way for a redevelopment that has been contemplated since the Coliseum was demolished in 2007. If built as planned, the as-yet-unnamed development would unfold over the next seven to 10 years.

Financing for the majority of the project will come from private investors and real estate investment trusts, Reim said.

However, an additional $33 million for road and other related improvements will need to come from public funds. The city has approved up to $12 million, but the remainder has yet to be secured from state and federal funds, according to Kelly Murphy, the city's economic development administrator.

Work can begin on the project without the funds, but the public money will become crucial as the project progresses, Murphy said.

Murphy said she expects the jobs that are created — 4,700 construction and 2,800 permanent — will be a major factor in arguing for the funds.

Mayor John DeStefano Jr. said the project will significantly boost tax revenues, revitalize an underused area near downtown, and provide a catalyst for further commercial growth in the city.

The development would be built in two phases.

The first would include a public square flanked by 380 mixed-income apartments, some of them row houses catering to larger families; 35,000 square feet of retail space, enough for two dozen shops and restaurants, all locally owned; and 24,000 square feet of space for seasonal, incubator businesses. These buildings would be completed first, by 2016

The first phase also includes a 190-room, 41/2-star hotel with a conference center, a fitness and wellness center, and a spa. An additional 100 to 200 upscale residential units — some of them condominiums — would be connected to the hotel and give tenants and owners access to the amenities of the hotel. These buildings would likely be finished in 2017 or 2018, Reim said.

Reim said he believes there is enough demand in the market for the condominiums to sell. He said he has heard from Baby Boomers who work in the city and would seriously consider buying a condo in retirement, particularly with access to the amenities provided by the hotel.

« There is greater demand than availability in the 'for sale' market, » Reim said. « There is basically nothing for sale in the downtown area. »

The project's second phase would follow with a 200,000-square-foot office tower, preferably with a single corporate tenant, and another residential tower with as many as 500 units.

The project includes 1,500 parking spaces, roughly half underground and half on a parking deck.

The redevelopment is part of the larger « Downtown Crossing » project that seeks to reconnect the city, separated by the construction of the Route 34 connector. The connector, intended to tie New Haven to Orange and Derby and make it easier for people to visit and shop in the city, eliminated an entire neighborhood but was never completed. A portion of the connector has already been closed and construction of a new $100 million headquarters building for Alexion Pharmaceuticals is underway.

LWLP was named preferred developer in 2011, after plans by the city's first preferred developer, Northland Investment Corp., abandoned plans for the site.