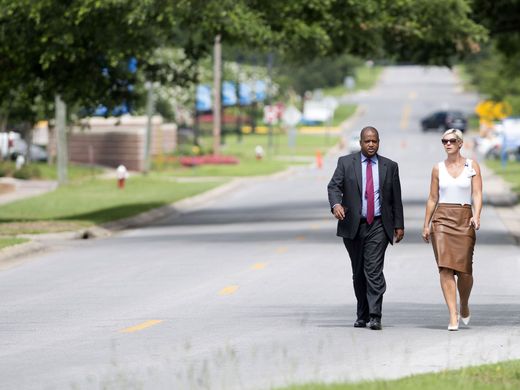 juin 9, 2016

Hospital helps revitalize West Moreno neighborhood

Article by: Carlos Gieseken, Pensacola News Journal

Direct link: https://www.pnj.com/story/news/2016/06/08/west-moreno-neighborhood-conceptual-plans/85562864/

Lisa Brown Elijah grew up on De Soto Street not far from Baptist Hospital.

The neighborhood felt like a big family, and everybody knew each other.

"Our neighbors watched out for us," she said. "It was a great place for a kid to grow up."

The retired Army nurse moved back to her childhood home in Pensacola after living in Tallahassee, and is enjoying seeing her home city revitalize. She was impressed with the conceptual plans for the West Moreno District at a presentation Tuesday night at the Friendship Primitive Baptist Church on West Blount Street.

"Everybody wants to have pride in where they live," she said. "I think this is something that will bring people back to the neighborhood."

The something Brown Elijah was referring to are plans presented to an audience of about 30 by Richard Martz, partner and principal at Live Work Learn Play, a Montreal, Canada-based real estate development and advisory firm.

For the past two years he and his team have collaborated with Baptist Hospital, the city of Pensacola and Escambia County on a plan to revitalize the area around the hospital.

"You aren't going to fix all the west side problems and vacant land overnight," Martz said. "But you do need to start somewhere and start intelligently."

The goal is to first strengthen the core bounded by E Street to the east, Moreno Street to the north, West Lee Street to the south and J Street to the west. Once revitalization firmly anchors itself in the central area, it will hopefully make its way westward toward Pace Boulevard and southward toward Cervantes Street.

The plan is for remade streetscapes, welcoming public green spaces and newly constructed or rehabilitated residential infill to be left in its wake.

"Start strong. Set a precedent. Allow that to spread outward," Martz said. "The first statement you make is essential."

Baptist has plans to build an office building, but wants to do so in a way that helps remake the neighborhood for its employees, hospital visitors and area residents. So far it has partnered with the city and county on $275,000 worth of strategic assessment and conceptual planning for the neighborhood from Live Work Learn Play.

Building up the central portion of the neighborhood would include the construction of the office building across Moreno Street from the hospital to strengthen that street's sense of place. The building would feature retail, restaurants and other amenities on the ground floor for neighborhood residents as well as hospital-related visitors and employees.

Local government would come in to remake streetscapes with lighting, landscaping and sidewalks as well as usable public green space. A big part of that green space would come in the form of stormwater retention ponds and landscaping designed into usable, public parks, similar to the approach taken with Admiral Mason Park, at the intersection of Ninth Avenue and Bayfront Parkway.

"Today, whether you live in the community or you work at Baptist, if you want to go for a walk, you walk around the parking lot," Martz said. "There aren't a lot of great places to go for a nice stroll in a positive, well-designed environment."

Residents and elected officials in attendance Tuesday were pleased with what they saw. Current city council woman Jewel Cannada-Wynn as well as former city council woman and county commissioner Marie Young liked the plans.

"I'm impressed with what they have done so far," said Young, a resident on West Lee Street for the past 30 years.

"This would truly be an answer to one of the stormwater issues in this area," Cannada-Wynn said.

Esther Richard, who has lived in the neighborhood about 20 years, enjoyed the presentation and the plans she saw, but was left with many questions.

"If you are building up the area, it sounds great, but will current homeowners be able to continue to live in the area?" she said. "There are new homes going up. Eventually, those property values will go up. Will people be able to pay property taxes and insurance?"

Martz said the cost of the plan is still being calculated and he declined to speculate as to what the amount might be. Live Work Learn Play will lay out a playbook and it will be up to Baptist, the city and the county to decide if and how they want to move forward.

"This will come down to public will and public dollars," he said.