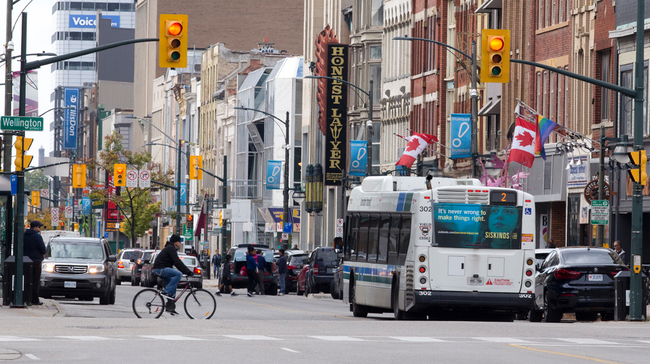 octobre 25, 2016

London city hall: Consultant calling for downtown crackdown

Article by: Norman De Bono, London Free Press

Direct link: https://lfpress.com/2016/10/24/consultant-calling-for-downtown-crackdown/wcm/21c1a1ff-f7f1-6d5d-23db-84c178d0ff7d

London needs to crack down on drug use and vagrants in the core, especially the Market Lane area, to make it more welcoming to the public, a consultant told politicians Monday night.

"The perception that shapes the downtown image is holding it back and that needs to change," said Joseph Milos, project manager with Live Work Learn Play, a Toronto firm that helps cities rebuild their downtowns.

As he spoke to city council's strategic priorities and policy committee about cleaning up Market Lane, media headlines of drug use and crime downtown were displayed.

Downtown London hired Live Work Learn Play to help plan the Dundas Place project that will turn a four-block stretch of the street into a vehicle-optional public space. The agency that represents downtown businesses agreed to pay the consulting firm $540,000 after council rejected its request for funding.

Live Work Learn Play also recommends "disarming street culture" by establishing "green zones" — a military term used to mean establishing a safe zone. It also called for better environmental design and co-ordination between city staff and local agencies, such as London police and the Middlesex-London Health Unit.

The firm recommends hiring an "urban co-ordinator" for the core to "manage transformative projects with a holistic view of the whole downtown," Milos said.

Councillors Harold Usher and Phil Squire took exception to Live Work Learn Play's recommendation to clean up Market Lane, an alley connecting Dundas Street and Covent Garden Market.

"I don't want to go in and start removing people from Market Lane. I don't want to chase anyone away from anywhere in the city," Usher said.

An emotional Squire slammed the report's notion of how to deal with drug use and vagrants in the core. The lawyer told the committee many of those people are his clients, and they need help and support and not to be treated like a blight. "I have to tell you, this is the most frustrating 15 minutes I've had since I have been on council," he said.

The committee voted to refer to staff the recommendation to create a downtown consultant position.

It also directed city staff to address the issues in Market Lane, with a co-ordinated health-care approach.

Coun. Tanya Park, who represents downtown, put forward the motions. "We have seen success when two agencies share resources. It creates efficiencies . . . I want to see action on this," she said.

Live Work Learn Play has worked four months on the report and will work another 14 months to help implement any changes.

The report also profiled things that are working downtown: the walkable grid, historic buildings, good transit, food and entertainment, strong anchors, Fanshawe College investment, and the area's arts and culture focus.

The report, however, also called for action in areas where some councillors say work already is being done.

Specifically, it called for more downtown development and heritage protection, when there are four highrises now in the works and many others proposed. The city also has strengthened planning language around heritage protection downtown, approved a forks of the Thames redevelopment and a Dundas Street upgrade.

Live Work Learn Play also called for greater work from London Economic Development Corp. in supporting the downtown. But that agency has brought new business downtown and supported expansion of others.

"It seems to me a lot of these things, staff are already doing," Coun. Maureen Cassidy said.