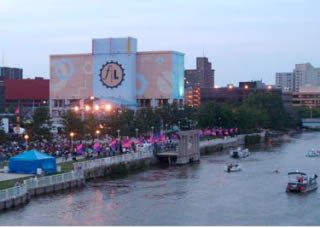 juillet 21, 2010

New downtown Rockford revitalization plan won't sit on shelf

Article by: Melissa Alter, WREX.com

Direct Link: http://www.wrex.com/story/12804792/new-downtown-rockford-revitalization-plan-wont-sit-on-shelf

ROCKFORD (WREX) – Some people might say a 59-page blueprint to transform downtown Rockford seems too over-the-top for this city–a dream for what could be, not a reality. But the Rock River Development Partnership believes its vision, released to the public today, could succeed.

With Rockford in a budget crisis, redevelopment ideas might seem unreasonable or even excessive, but the drive for this is from private sector individuals.

« We've had a lot of plans in the past that sat on a shelf because they weren't ready to be implemented by the private sector, » explains Mayor Larry Morrissey. « That's why it's great to see this effort. »

The City Center Development Framework outlines project recommendations and strategies to get those ideas done. It's the culmination of 10 months of collaboration between the RRDP, a Montreal-based urban planning firm called Live Work Learn Play LLC, and several public agencies.

« This is all about a feasible action-oriented implementation plan,  » explains Max Reim of Live Work Learn Play. « It basically encompasses dozens and dozens of small to mid-sized projects that are all feasible and all tested. It really gives you a step-by-step recipe for how to start revitalizing your downtown core, district by district, street by street, building by building. »

Their vision divides downtown into nine districts. The report lists specific recommendations for each.

The main area of focus is East State street from the Rock River to 3rd street and several blocks along the river to the north and south. Ideas there include a soul food restaurant, sushi place, karaoke bar, sports bar, 24-hour diner, sports apparel store, and boutique hotel.

« We know it could work. It's just a question of putting all the pieces together, » says RRDP Chairman Peter Provenzano. »

The proposal for Madison Street includes creation of the Rockford Arts and Design Center, plus cafe and dry cleaner additions.

The recreation district envisions a riverfront restaurant and a slew of activity sites: ice skating rink, rock climbing wall, driving range and mini golf, skateboard park, boating.

Money to pay for all these things will come from a number of sources. « It'll come from private and public sources. I think there's Recovery Act money that'll be available. There's Rivers Edge money that'll be available, » Provenzano says. « And it's really our job to help define and prioritize what projects make sense to do now versus later. »

Community leaders believe this plan won't become another lost idea because they say they've already implemented parts of it and proved it can work. The City Market is one element of this playbook recently put into place, and its success makes them optimistic. In fact, Provenzano expects the start of an indoor City Market, hopefully in the fall.

« We want to be able to continue to incubate these small businesses. Some of the business that exists at the City Market today didn't exist a few months ago, and we'd like there to be something for them this winter, » Provenzano explains.

« It's already doing things, so it's not just future tense, » Mayor Morrissey says. « We're  talking about a process that's already been able to see some results. »

You can read the full report, learn more about The Rock River Development Partnership and read about Live Work Learn Play, LLP, by clicking the links along the left of this story.