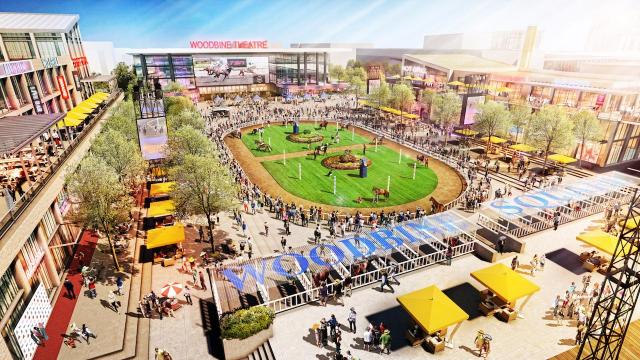 mai 2, 2017

Toronto Woodbine to become 'city within a city'

Article by: RENX Staff, Property Biz Canada

Direct link: https://renx.ca/woodbine-toronto-development-city-within-city/

Woodbine Entertainment Group hopes it has at last come up with the recipe for success at its vast northwest Toronto horse racing and gaming site.

WEG used the recent Urban Land Institute Toronto Symposium to unveil its completed master plan for the 684-acre site. This latest development plan promises to turn the property into "a city within a city" while retaining the traditional horse racing operations on about 200 acres.

"After almost two years of strategizing, researching, planning and designing, we are excited to share our exciting master plan for Woodbine's unique 684-acre property – a site larger than Toronto's downtown business district and with enormous potential given its history and location," Garth Essery, WEG's vice-president of property development, said in a release announcing the project.

The master plan, developed with LiveWorkLearnPlay (LWLP),  calls for Woodbine to remain the city's horse racing and gaming hub. It will also integrate new expanded entertainment and cultural offerings, food and dining, hotel, shopping, office space, post-secondary education, recreation, health, wellness and urban residential living.
"City within a city" concept
The "city within a city" concept is designed to unlock the value of the undeveloped land, generating long-term revenues to support Woodbine's decades-long history of horse racing operations.
"At the core of the project is the beauty of the horse," WEG  CEO Jim Lawson said in the release. "With over 2,000 thoroughbred horses stabled on-site, approximately 200 acres will continue be devoted to horse racing operations at the centre of this unique development."
He calls it "a transformative project for the City of Toronto in the years to come."
This is not the first attempt at redeveloping the site. A billion-dollar plan tabled a decade ago, known as Woodbine Live, never came to fruition.
The catalyst for the first phase of the new development is an expanded gaming district complete with entertainment, hospitality and related amenities. WEG says the first phase will attract 12-15 million per year, more than double the current number of visitors to the site.
Seeking operator for slots site
Ontario Lottery and Gaming Corporation (OLG) is currently seeking a private sector service provider to operate the Slots at Woodbine Racetrack site and to propose an expanded entertainment development, consistent with the City of Toronto's conditions.
OLG expects to name a private sector provider in late Summer 2017.
No financial or costing details were released.
The Woodbine site is located on the northwest edge of the former borough of Etobicoke, just metres from the border with the City of Mississauga. It's also adjacent to the Woodbine Mall, has excellent transportation access via Rexdale Blvd., Highway 427 and Highway 27, and is just a few minutes from Toronto International Pearson Airport.
LWLP, WEG's lead real estate development advisor, has led the planning and master development of towns, cities and large-scale mixed-use projects across North America and beyond.
The process incorporated a group of industry-leading professionals, led by SWA Group, an international master planning, landscape architecture, and urban design firm, in collaboration with BCV Architects and Nelson Nygaard.
A team of local experts led by IBI Group and Walker Nott Dragicevic also supported the process.
"The Woodbine Racetrack site represents a unique legacy opportunity to develop a place that can offer enduring social and economic value to the city and region, while ensuring the sustainability of the horse racing industry," said Richard Martz, partner and principal of LWLP.
"WEG's ambitious planning and development strategy has been designed to effectively respond to that context and opportunity."