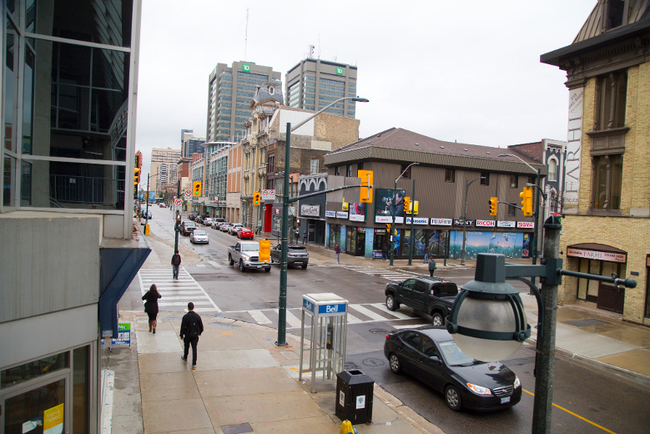 October 15, 2016

An outside study done for a downtown-boosting agency overlooks steps already being taken to bolster the core, one politician says

Article by: Norman De Bono, London Free Press

Direct link: https://lfpress.com/2016/10/30/an-outside-study-done-for-a-downtown-boosting-agency-overlooks-steps-already-being-taken-to-bolster-the-core-one-politician-says/wcm/f1dd75e9-b9bb-16b2-8e89-261b1590b6f1

The latest in a series of reports on downtown London offers little new information, with many of its recommendations already being done, says one city politician.

Live Work Learn Play, the Toronto consulting firm hired by Downtown London, should have held more meetings with city staff or at least read the London Plan before writing its report, Coun. Maureen Cassidy said.

"I'm always conscious of someone coming in here from Toronto and doing an assessment of our city. Our staff is sitting there listening to this guy tell council what is wrong, when they have been working on this for years," Cassidy said.

"We have come a long way in 10 years, we have done a lot of this work."

Joseph Milos, program manager at Live Work Learn Play, made a presentation recently to city councillors about challenges facing the city centre.

Downtown London hired the firm in June to come up with a plan that would attract more retailers to the core as the city prepares to convert a four-block stretch of Dundas Street into a public space that would be pedestrian-only at times.

Many of the observations in the Live Work Learn Play report, such as a high office vacancy rate, the need to attract more residents, and the prevalence of drug use and street culture, are well known and strategies are in place to address them, Cassidy said.

Numerous agencies in the city have tackled, and reduced, the drug problem downtown in recent years, she said. Cassidy also questioned concerns expressed in the report about downtown planning and economic development, when building, residential development, population and business attraction and growth have all increased in recent years.

"I'm not convinced this consultant is the be all and end all, to solve our problems downtown. I'm just glad we are not paying for it."

Downtown London is footing the $540,000 bill for Live Work Learn Play. The company will work with Downtown London over the next 14 months to implement report recommendations.

Cassidy also questions the report's contention that "economic development does not see the downtown core as a priority."

In his presentation, Milos said, "economic development and real estate investment is a problem for downtown."

But the London Economic Development Corp. (LEDC) has landed new businesses for downtown, especially in the technology sector, and is helping existing ones to expand. It also has dipped into its budget to help pay for fibre-optic investment downtown, a boom to technology business.

"The LEDC is always willing and ready to join in, when needed," Cassidy said. "I think they are doing a great job."

The LEDC is "a supporter of downtown" but is responsible for the entire city, including industrial and manufacturing areas and different sectors, meaning it has a wider focus than Live Learn Work Play understands, said Kapil Lakhotia, LEDC chief executive.

"We focus on key economic drivers in the city," he said. "Other studies have said this is a sound strategy and should be supported."

The corporation is doing good work to bring companies to the core, Lakhotia said, pointing to Bron Studios. The British Columbia animation company recently opened an office on Richmond Street.

Janette MacDonald, chief executive of Downtown London, said Live Work Learn Play wasn't hired to outline what's wrong with the core, but to help develop an "action plan" and bring new investment.

"If we don't deal with these issues, they can't bring business here. With respect to other reports there has not been a lot of action," she said.

From 2013 to 2016, the State of the Downtown report, the city strategic plan, the downtown plan and the community economic roadmap, all reported on the state of the core.

MacDonald said a balanced approach that addresses social justice issues and "economic resiliency" is needed downtown.

The report calls for greater emphasis on downtown development and planning. It suggests there's a shortage of developable sites in the core, inflated land prices, a lack of co-ordination among land owners and a greater concentration of land in a new hands.

But the city planning department has approved several projects proposed for downtown, including several highrise and commercial developments — and there's more in the pipeline, Cassidy said.

"I wanted to ask the (consultants) if they have read the London Plan, it is all in there," she said of the recent presentation by Live Work Learn Play.

City planner John Fleming said his department has in recent years recommended approval of 1,600 residential units in highrise and mid-rise towers in the core.

"This council has approved an unprecedented amount of residential development over the past two years. It's a positive thing for downtown, and for everyone. It gets feet on the street and breeds life into the core."

Gerry Macartney, chief executive of the London Chamber of Commerce, said he understands concern the report raises about re-tilling old ground, but believes these are issues that still need to be addressed by the city.

"It seems disconnected" from what is happening now in the city, he said.

"But the good news is there is a report that addresses the concerns we have been talking about in the community," he said.

"It documents the good, the bad and the ugly. Now it is up to us to act on it."

Following the report's presentation, city politicians agreed to ask staff to report on a recommendation on creating a city staff position of downtown consultant, and on dealing with drug use and homeless people in the Market Lane area.

Live Work Learn Play

– Toronto consulting firm hired by Downtown London to advise how the core could be improved as a destination

– Met with businesses, agencies and city staff from May to August

– Will advise on planning, development and investment over the next 14 months

– Cost: $540,000, paid by businesses

Objectives:

– Review plans, objectives about the downtown

– Identify enhancement opportunities

Existing studies on the same subject

– downtown plan, 2015

– community economic roadmap, 2016

– city strategic plan, 2015

– state of the downtown report, 2013

LIVE WORK LEARN PLAY REPORT FINDINGS

Downtown strengths

• Growing technology and creative sector

• Strong entertainment and cultural anchors

• Large stock of unique heritage properties

• Proximity to the Thames River

• Affordable real estate market

Weaknesses:

• Uncertain political support

• Concentration of drug-related activity

• High rate of commercial and retail vacancies

• Concentration of downtown land and building ownership by limited number of stakeholders

• Over designation of heritage properties

• Centralization of social services

• Lack of public understanding of the role of downtown

• Lack of consistency along Richmond Row

Threats:

• Suburban areas eroding the primacy of downtown

• Disproportionate amount of social services downtown

• Perceived lack of mainstream broker interest in downtown commercial space leasing

• Numerous surface parking lots in prime redevelopment sites

• Difficulties in raising families within the downtown area

• Animosity between downtown property owners

• Lack of access to utilities and spaces for large scale public events

What's working downtown

• Cluster of commercial and office space

• Plentiful parks and open spaces

• Good transit connectivity to the rest of the city and the GTA region

• Good selection of food and entertainment offerings

– Strong anchors London Convention Centre, Budweiser Gardens, Covent Garden Market, Fanshawe College, Victoria Park

– Arts and entertainment

What's not working downtown

– Drug use and street culture

– Overlapping social services

– City buses on the main corridor

– Shortage of downtown sites for development

– Numerous surface parking lots on prime development sites

– Inflated land prices, inflated commercial rents

– Lack of co-ordination and communication among downtown landowners

– Lack of co-ordination, communication between municipal departments resulting in inefficient practices and slow adoption of changes.