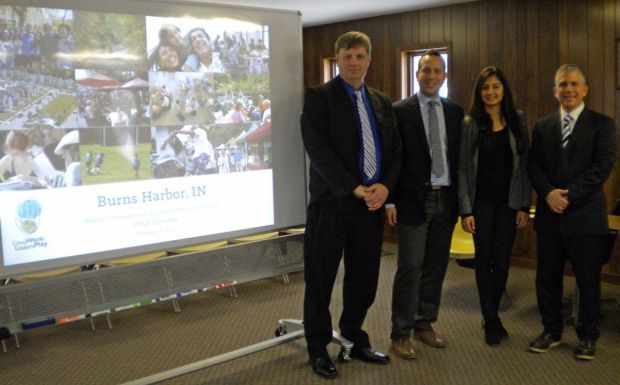 February 16, 2015

Burns Harbor hires firm as master development advisers

Article by: Times Staff, NWI Times

Direct Link: https://www.nwitimes.com/news/local/porter/burns-harbor-hires-firm-as-master-development-advisers/article_90ae59ca-3bfb-54f6-8df3-72a1a2af1e9c.html

BURNS HARBOR | The Burns Harbor Redevelopment Commission announced LiveWorkLearnPlay Inc. (LWLP) will assist in facilitating long-term development as well as implementation towards a sustainable economic environment and identity of the town.

The RDC approved hiring LWLP as master development and revitalization adviser at a special public meeting Feb. 12.

"LiveWorkLearnPlay immediately connected with our commission on an emotional level," said RDC President Greg Miller in a press release. "This incredibly prestigious firm produces the creativity to think outside the box, while their proven international successes demonstrate a broadened view of the world and ultimately what our town could be one day."

A real estate development and advisory firm, LWLP focuses on envisioning, planning and implementing large-scale mixed-use communities.

Max Reim, co-managing partner and principal with LWLP, will serve as the RDC's project adviser.

"We feel strongly that Burns Harbor is in a position to achieve many of its identified goals, and has the opportunity to grow into a more vibrant, iconic and economically thriving place," Reim said. "We are confident that, together, we can transform Burns Harbor into America's next great small destination town."

During phased development of Burns Harbor, LWLP initially will work with RDC members and staff on a detailed market assessment with area stakeholders. The four- to five-month process will further the town's comprehensive and sub-area plans into action by testing possible projects and initiatives.

The decision to partner with LWLP resulted from a six-month request for qualifications and evaluation process. Last fall, the RDC received 11 submissions from firms interested in providing assessment and strategic guidance for the development of land and programs.

Three firms were awarded interviews earlier this month based on assessment of portfolios, previous experiences, success stories in comparable local and regional areas and preliminary ideas for implementing future development.