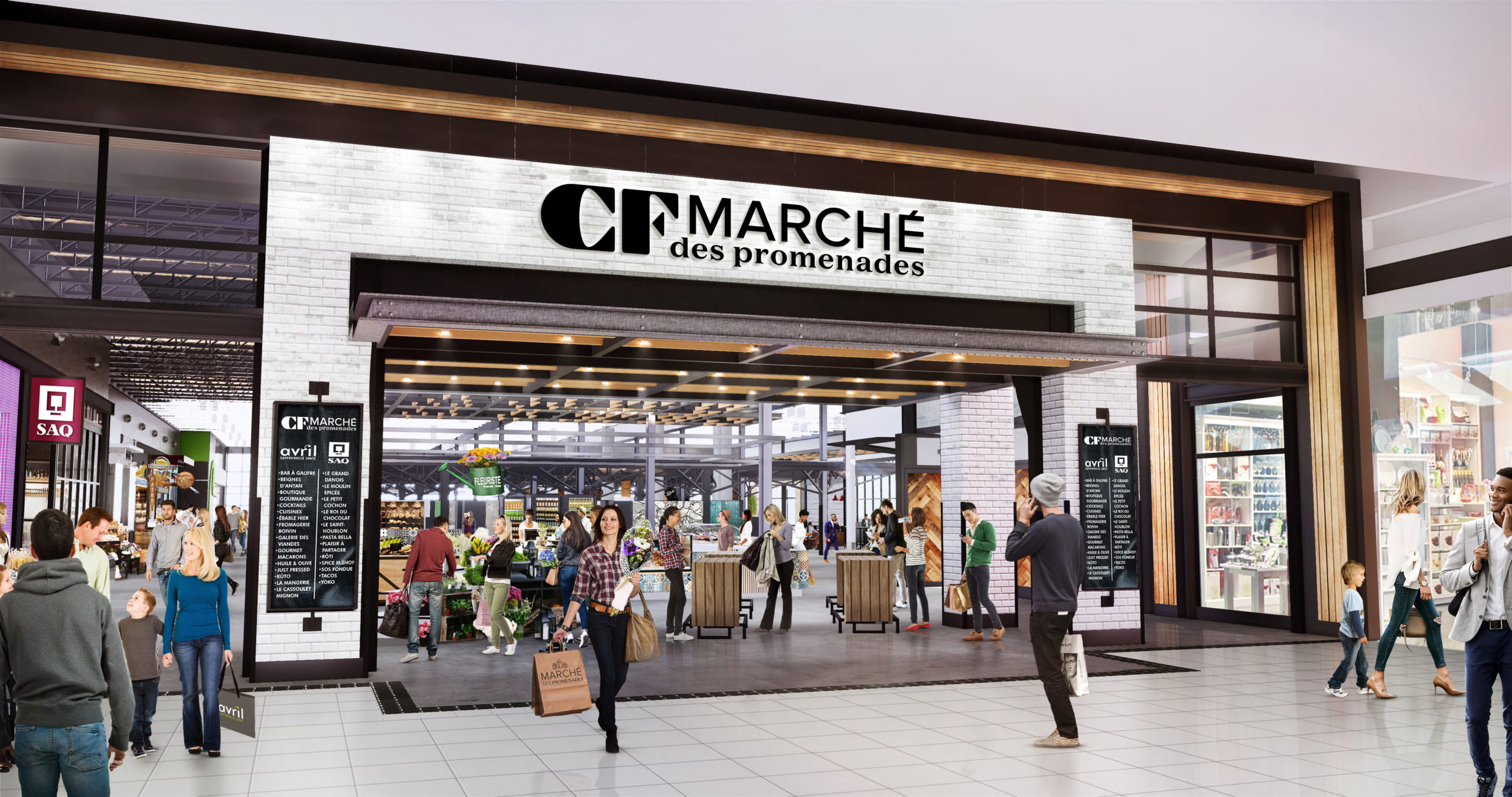 September 16, 2019

Cadillac Fairview Announces Major Food/Entertainment Investment in Suburban Montreal Shopping Centre

Article by: Craig Patterson

Direct link: https://www.retail-insider.com/retail-insider/2019/9/cadillac-fairview-announces-major-investment-in-suburban-montreal-shopping-centrenbsp

Landlord Cadillac Fairview has announced that it is investing a further $67.5 million in its CF Promenades St-Bruno shopping centre property to create a "market-style food hub" that it says will reinforce the centre as a key destination for Montreal's South Shore community. Cadillac Fairview says that it will be the first of its kind for the landlord's shopping centre portfolio. It's all part of a much larger investment on the part of Cadillac Fairview in CF Promenades St-Bruno, which has seen more than $175 million spent over the past several years on updates and expansions.

The new 113,000 square foot 'Marché des Promenades', which will open in the fall of 2020 in CF Promenades St-Bruno's former Target space, will be a "unique food, beverage, and entertainment experience" according to Cadillac Fairview. Included will be a 35,000 square-foot Avril Supermarché Santé, a Saint-Houblon Brewery, as well as a diverse mix of restaurants, specialty and artisanal retailers and producers. Selections will include both permanent and seasonal food vendors offering the best produits du terroir from Quebec, Greater Montreal and its surrounding agricultural regions, according to Cadillac Fairview.

Besides the retailers mentioned above, other tenants announced for the new Marché des Promenades will include:
Bar à Gaufres
Beignes d'Antan.
Fromagerie Boivin
Galeries des Viandes
Just Pressed
Küto
Pasta Bella
SAQ
SOS Fondue
YOKO Gâteau au fromage
Cadillac Fairview says that the project will include interior and exterior spaces as well as an outdoor public plaza designed to host a wide variety of year-round events, and will also include dedicated patio spaces for new restaurants.
Brian Salpeter, Senior Vice President, Development at Cadillac Fairview, said, "This latest project is a continuation of our significant investment at the property, with exciting new food and beverage offerings to enhance our overall customer experience." Mr. Saltpeter told La Presse that there will be nothing quite like it anywhere in the world.
Cadillac Fairview has already invested $175 million in phased property upgrades at CF Promenades St-Bruno. That began with a $49 million redevelopment of the property that was completed in October 2015, which included a renovation of all public areas in the mall as well as major upgrades to its dining amenities.
A subsequent $35 million redevelopment of the mall's former Sears location includes a flagship 53,975 square-foot Sports Experts/Atmosphere store that opened in May of 2019. This fall, a new 43,500 square-foot Winners store will open in the mall nearby, while unique Quebec City-based novelty retailer Imaginaire will also open a flagship store as its first location in the Greater Montreal area.
Work is also underway for the updated two-level $30 million flagship La Maison Simons store at CF Promenades St-Bruno, which was reported in July of 2018 in Retail Insider. Simons will expand its CF Promenades St-Bruno store from 65,600 square feet to nearly 90,000 square feet over two levels. Simons will remain open throughout the expansion and the new expanded store will be completed in 2020, and will be the retailer's only location in Montreal's South Shore area. CF Promenades St-Bruno is also home to many best-in-class retailers such as Zara, Aritzia, H&M, Sephora, Browns Shoes, Victoria's Secret, Starbucks, Aldo, Michael Kors and others. Besides La Maison Simons and Sports Experts/Atmosphere, CF Promenades St-Bruno is anchored by a 130,600 square foot Hudson's Bay department store.
"We're proud to continue showcasing CF Promenades St-Bruno as a unique and vibrant gathering place, as a hub for this community where people want to meet, with best-in-class retailers and the addition of a new food destination that is the first of its kind in CF's portfolio and unique to Quebec in its vision and scale," said Mr. Salpeter.
Cadillac Fairview built the two-level CF Promenades St-Bruno in 1978. Retail Council of Canada's Canadian Shopping Centre Study has recognized the shopping centre as one of the most productive malls in the Montreal region. The centre's annual per square foot productivity for non-anchor reporting retailers is well over $600. Remarkably, its food court sees annual per square foot sales exceed $1,800, according to Cadillac Fairview.
CF Promenades St-Bruno houses 158 retailers in the 792,500 square foot centre which has about 5,900 parking spaces. About three quarters of the mall's visitors are female, with the average shopper being 47 years old. The average annual household income of shoppers at CF Promenades St-Bruno is more than $97,000. The centre's primary trade area is more than 500,000 people with a total trade area approaching a population of 900,000. About 22% of visitors to CF Promenades St-Bruno are said to be tourists, according to the landlord's leasing documents.
Food halls and food experience centres are being rolled out across the country. Landlord Oxford Properties has already opened two food halls in its Canadian shopping centres. In the fall of 2018, the landlord opened Market & Co. at its Upper Canada Mall shopping centre property in Newmarket, Ontario, and in the spring of 2019, Oxford Properties opened the Food District at Square One in Mississauga. This fall, another food hall will open at its Galeries de la Capitale centre in Quebec City. Downtown Toronto's Union Park, which we reported on several months ago, will include a large food hall destination as well.
Other Canadian landlords are embracing the elevated food and beverage trend. That includes Ivanhoé Cambridge, which will open a Time Out food hall this fall at Montreal Eaton Centre as well as a 'gourmet biergarten' at Place Ville Marie. Landlord QuadReal will also open food halls at its 'The Post' commercial project in downtown Vancouver, as well as at Vancouver's overhauled Oakridge Centre which will be completed in several years. Vancouver-based SHAPE will unveil a food hall at its 'The Amazing Brentwood' in Burnaby. The now under construction Royalmount mega-project, developed by Carbonleo in partnership with L Catterton, will see a new food hall that is expected to debut in the summer of 2022.
One of the most anticipated food experiences is Eataly, which will open its first Canadian location at the Manulife Centre in Toronto at some point this fall (sources have said possibly late October or November). The concept is a hybrid grocery store and restaurant, or 'groceraunt' as some have called the concept. Eataly recently told the Financial Post that it is looking at possibly opening a second Toronto location at some point, as well as locations in either Vancouver or Montreal, or both cities depending on real estate opportunities. Beauleigh is the consultancy working on placing tenants at Manulife Centre.
Other Canadian shopping centres are also expected to see expanded food and beverage offerings as landlords look to attract customers from wider trade areas while at the same time increasing visitor frequency and dwell times. We'll continue to report on the trend as landlords innovate to compete for consumer dollars.