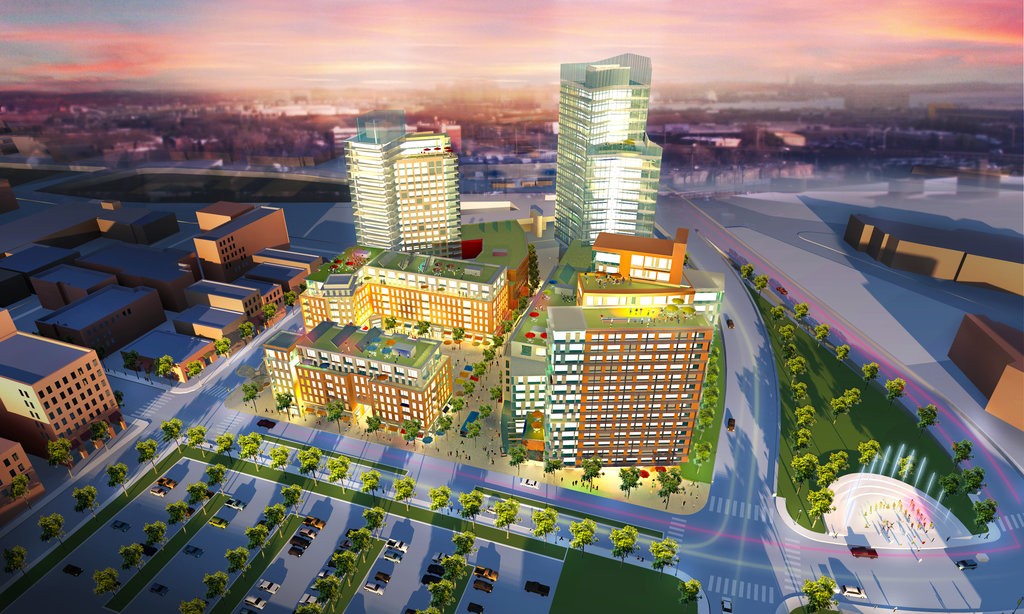 August 21, 2011

City of New Haven Announces Preferred Development Team for the Former Coliseum Site: Next 12 Months Will Be Spent on Planning Activities for Site Redevelopment

Article by: Adam Joseph, Business Wire

Direct Link: https://www.businesswire.com/news/home/20110825005988/en/City-Haven-Announces-Preferred-Development-Team-Coliseum

NEW HAVEN, Conn.–(BUSINESS WIRE)–Mayor John DeStefano, Jr. is pleased to announce Live Work Learn Play Inc. along with Newman Architects as the preferred development team to move forward on planning for the redevelopment of the former Coliseum site.

The City's objective is to redevelop the 4.5 acre former Coliseum site into a vibrant mixed-use neighborhood as the gateway to downtown. We have selected the preferred development team (the Team) to begin predevelopment work during the next twelve (12) months with the goal of negotiating a Development Agreement and Land Disposition Agreement (LDA) the following year (or sooner if market conditions warrant) based on a phased development of the site. During this predevelopment year, the Team will conduct various market studies for potential uses, develop concept plans (possibly including new streets), approaches for phased development of the site while looking at shared parking and loading opportunities as well as hosting a number of community workshops.

"Despite what is occurring in the national economy, New Haven has continued to grow due to the underlying strength of our core economic sectors including: education, health care, bio-tech research and development, information technology, new media and advanced manufacturing," stated Mayor John DeStefano. "This along with a strong residential rental market makes it possible to move forward on this key development parcel in downtown," continued DeStefano.

Live Work Learn Play is headquartered in Montreal, Canada, and has offices in Toronto, Canada; Nashville, TN; and Austin, TX. They have a wealth of experience in downtown revitalization projects focusing on college towns and cities across Canada and the US. They recently successfully completed a $71 million, 140-unit residential building with ground floor commercial in downtown Montreal, adjacent to Concordia and McGill Universities and a $28 million, 108-unit residential project in the Ville-Maire section of downtown Montreal. Max Reim, one of the principals of LWLP and the lead for New Haven, completed over 1,500 flagged and non-flagged hotel rooms with over 100,000 sf of mixed-use retail and 250,000 sf of meeting/conference space in his previous position as a senior executive with Intrawest Corporation.

LWLP has established partnerships with an extensive list of retailers that are in their projects and with whom they have ongoing relationships, including companies such as: Barnes & Noble, Ben & Jerry's, Starbucks, Starwood and Kimpton hotels, 24 Hour Fitness, Vanilla Bean, American Eagle Outfitters and numerous national and local or regional restaurants.

LWLP's specialty leasing and deal-making process is specifically designed to identify and secure top quality local independent business operators for their projects, in order to support local businesses and ensure each development remains unique and authentic.

"The Live Work Learn Play Team has brought a strong track record of completing quality development projects in urban areas, particularly in college towns. Also important to their selection was their demonstrated ability to engage with community as they design these successful projects," stated Kelly Murphy, Economic Development Administrator.

Among the active college town redevelopment projects in which LWLP has played or continues to play an important role, include:
Rowan Boulevard and the downtown redevelopment of Glassboro, NJ, which is home to Rowan University. This plan calls for 700,000 sf of residential, 210,000 sf of retail, 60,000 sf of office, a 100-room Marriott hotel and parking along its main downtown corridor that also incorporates parts of the Rowan University campus. The $300 million project is underway and moving forward with a mix of private and public financing
Storrs Center University District is a $220 million project which will create a brand new college town for the University of Connecticut and the Town of Mansfield. The plan calls for 700 residential units, 160,000 sf of retail and restaurant space, 20,000 sf of office space, a parking garage and outdoor civic spaces. The first phase of the project broke ground this fall
College Town is the redevelopment of Madison Street in Downtown Tallahassee, adjacent to the campus of Florida State University, into a mixed-use urban village. The initial $20 million phase of the project calls for a five-story, mixed-use building with student apartments, and a three-story building dedicated to retail, restaurants and entertainment
"We are excited to be working with the residents of the City of New Haven and its Economic Development team to create a vibrant mixed-use development that is a welcoming gateway into downtown," stated Max Reim, Co-Managing Partner and Principal of Live Work Learn Play.
The Team also includes New Haven-based Newman Architects, which has a strong track record of designing quality projects. Notable projects include: Ninth Square in downtown New Haven which included the rehabilitation of virtually all of the historic four-to-six story buildings within a three-block district, and new mixed-use buildings on vacant lots between them, integrating retail and residential ground floor spaces with apartments above; Trumbull on the Park in Hartford and New Haven's City Hall.
Part of LWLP's commitment involves opening a local branch office of LWLP in New Haven. Staffed with one person initially who would be the local project management leader, the team would grow over time to include construction, sales, marketing, leasing and property management resources.
In addition, LWLP will commit up to $1 million in predevelopment planning financing to move forward on the activities noted above.
"We believe that the Preferred Development Team brings an extensive history of being able to complete complex urban projects by developing solid development plans and securing the necessary funding. It is also important to integrate this site with the planned new connection of Orange Street across the existing Route 34 connector as part of the Downtown Crossing Project," stated Kelly Murphy.
The LWLP Team was selected by a review committee comprised of: Downtown Alderwoman Bitsie Clark, Tony Resigno, President Greater New Haven Chamber of Commerce, Jorge Lopes, Chairman of the New Haven Redevelopment Authority, Peter Wilkerson, Chairman of the New Haven Development Commission, Rena Leddy, Executive Director of Town Green Special Services District, Maricel Valcarcel, a downtown resident, architect and member of the City Planning Commission. City staff included: Kelly Murphy, Economic Development Administrator, City Plan Director Karyn Gilvarg, Michael Piscitelli Deputy Economic Development Administrator, and Anthony Bialecki, Deputy Director of Economic Development. All participated in interviewing and vetting the candidate teams and all agreed that the Live Work Lean Play Team was the superior choice.