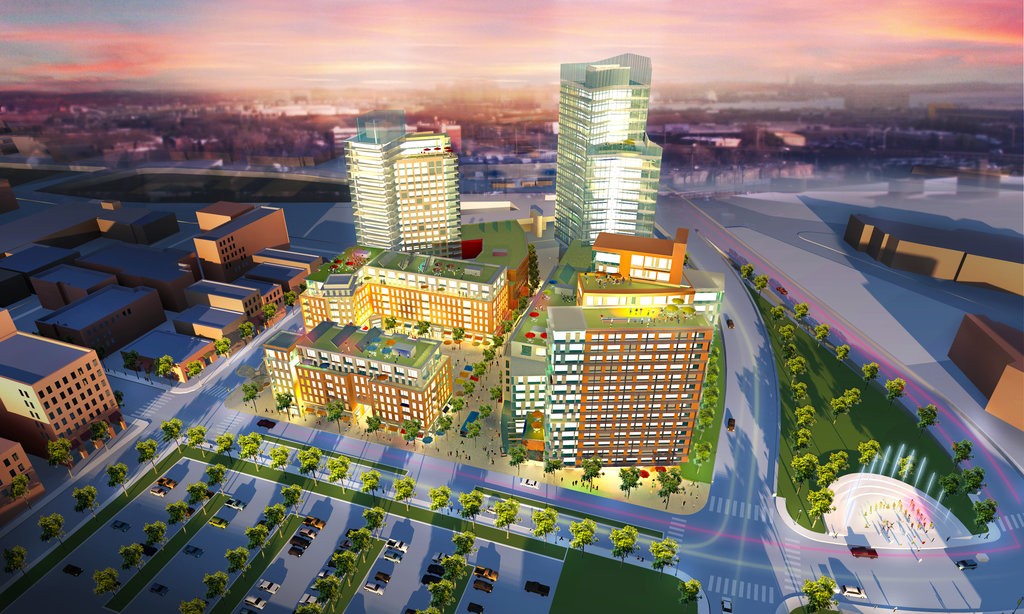 February 11, 2014

Developer Takes a New Look at Downtown New Haven

Article by: Lisa Prevost, The New York Times

Direct Link: https://www.nytimes.com/2014/02/12/realestate/commercial/a-stretch-of-downtown-new-haven-gets-a-second-look.html

NEW HAVEN — A firm that once turned up its nose at this collegiate city now wants to build a $360 million mixed-use development on a downtown parking lot.

In a vote of confidence for the downtown area, the Canadian firm LiveWorkLearnPlay has signed on to bring 1,000 apartment units (mainly rentals), 76,000 square feet of retail space, 200,000 square feet of office space, a high-end hotel with up to 200 residential units, and a large public square to a 4.6-acre site that was formerly home to the Veterans Memorial Coliseum.

The site, on what is now the edge of downtown, is hemmed in by Route 34, an ill-conceived, 1950s-era highway that walls off the district from Union Station, Yale's extensive medical complex and a neighborhood known as the Hill.

The city has begun an ambitious plan to remove the barrier highway, however, and the mixed-use project would advance efforts to knit neighborhoods back together. The plans call for lowering the wall of highway to create a boulevard and extending a major thoroughfare, Orange Street, across the highway to Union Station.

Removing the highway would redefine downtown's borders, and the coliseum site will "become the middle of something, not the edge of something," said Matthew Nemerson, the city's newly appointed director of economic development.

The city's Board of Alders unanimously approved a development deal with LiveWorkLearnPlay in December. The administration of the former mayor, John DeStefano Jr., championed the project, and his successor, Toni Harp, a longtime state senator and the city's first female mayor, has also pledged her support.

The project faces another hurdle, however. The city needs about $35 million to pay for the road work, and is looking to the state to provide at least 60 percent of that in bond funds. State officials ought to consider that cheap, Mr. Nemerson said, given the payoff in new tax revenue and investment stimulus, along with an estimated 4,000 construction jobs and 2,800 permanent jobs.

Throughout New Haven, which continues to struggle with poverty and high unemployment, the project has had unusually strong support, said Jorge Perez, the president of the Board of Alders.

"The deal passed unanimously and in the most record-setting time in the city's history," Mr. Perez said. "So that tells you something."

He credited Max Reim, the founding principal of LiveWorkLearnPlay, with having "really, really gone out of his way to reach out to all the neighborhoods and get input." As a result of those conversations, Mr. Perez says, Mr. Reim agreed to include about 20 federally subsidized Section 8 units, help ease unemployment by hiring locally, and post jobs with a local agency, New Haven Works, which maintains a local applicant pool. Twenty percent of the residences will be priced as work force housing, for low- to moderate-income households .

Connecticut's governor, Dannel P. Malloy, heads the State Bond Commission, but has not committed to financing the project. State Senator Martin M. Looney, a Democrat who represents New Haven and is the majority leader, said he was optimistic the project would gain the necessary support.

LiveWorkLearnPlay, based in Montreal, has developed mixed-use and resort communities all over the world. Mr. Reim, its co-managing partner, said that he had rejected the coliseum site seven years ago. "There wasn't enough private development going on or public projects that were economically driven," he said. "And the overall community had nowhere near reached its potential."

Since then, through revitalization efforts, downtown has gained hundreds of housing units. These include 500 units in a high-rise, 360 State, that was the city's first major new residential construction project in 20 years. The highway removal began, and spawned development of an office tower, 100 College Street, that will house the corporate headquarters of Alexion Pharmaceuticals. A new $200 million campus for Gateway Community College opened downtown a few blocks from the coliseum site.

By the time Mr. Reim returned in 2010, at the request of Herbert S. Newman, now the project's architect, the market had changed. For one thing, the city had an extremely low apartment vacancy rate. At the end of last year it stood at 2.2 percent, the lowest in the country, behind San Diego and New York, according to Reis, a commercial real estate information service.

In addition, the hotel market is now underserved, often forcing visitors (including Mr. Reim) to stay in surrounding towns. And the 30,000 to 50,000 people who come to work in the city every day have potential spending power to support more retailing.

Hoping to make the development a destination, Mr. Reim said his firm would "cast" an interesting mix of retail tenants beyond chain stores. He envisions a seasonal farmers' market in a public square, and restaurants serving organic produce grown in rooftop gardens.

The project would be built over seven to 10 years, in two phases. The first phase would include the public square, 370 apartments, 35,000 square feet for shops and restaurants, and 12,000 square feet for seasonal businesses.

Mr. Reim hopes to break ground this summer, but he said that rising interest rates made a commitment for state bond funding all the more urgent. "If Governor Malloy says, 'You have my commitment,' that's it: We fly," he said.