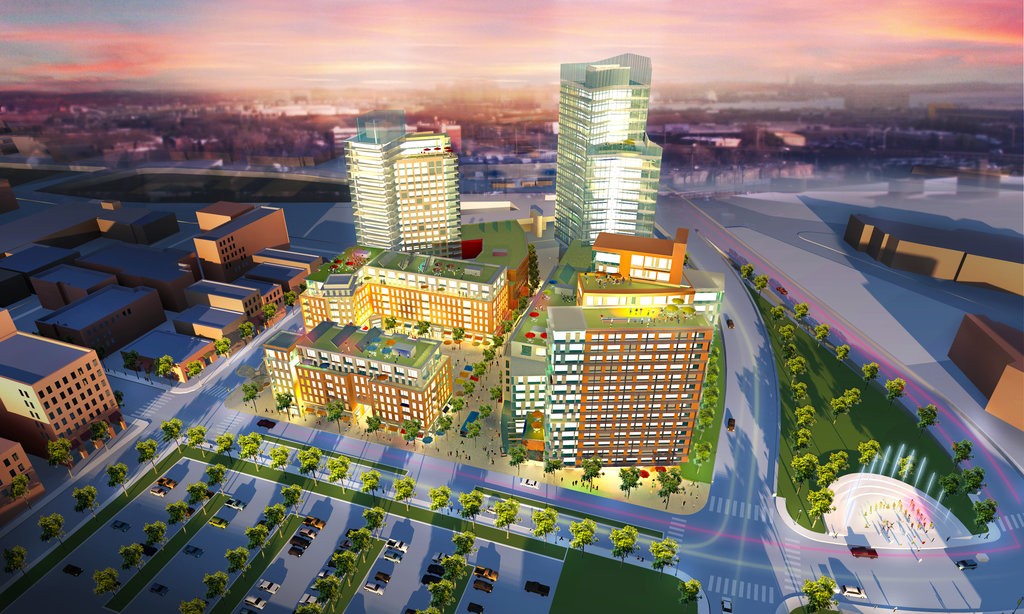 October 30, 2014

Development on Former New Haven Coliseum Site Gets $21.5 Million State Boost

Article by:  DIANE ORSON & HEATHER BRANDON, WNPR

Direct Link: http://www.wnpr.org/post/development-former-new-haven-coliseum-site-gets-215-million-state-boost

Governor Malloy announced on Thursday a $21.5 million investment in phase two of New Haven's Downtown Crossing plan.

The idea behind Downtown Crossing is to stitch together two parts of the city that were divided back in the 1950s by Route 34, famously nicknamed "the road to nowhere."

The plan is to reconnect downtown New Haven with the medical district, Union Station, and the Hill neighborhood. In the process, the city gains some ten acres of land in the middle.
Phase one centered on the construction of the Alexion Pharmaceutical Building.
Phase two funds will be used, in part, to change the entrance to the city. A highway bridge with a steep drop to street level will be smoothed out, and pave the way for redevelopment on the site of the former New Haven Coliseum. There will be new housing, commercial space, and a four-star hotel.
"The Coliseum site redevelopment is a vital component of the Downtown Crossing project and is a once in a generation opportunity to rebuild 5.5 acres of prime land in the heart of New Haven," Malloy said. The city is "front and center in creating quality, high-paying jobs for its residents," he added, and said that New Haven is contributing to the establishment of the state as a life sciences hub.
Paul Bass of The New Haven Independent reported that the state money is the missing piece the developer needed. From the report:
That money is the missing piece developer Max Reim of Montreal-based LiveWorkLearnPlay said he needed to get started on construction of his $400-plus million new urbanist mini-city of hundreds of apartments, offices, 30-40 storefronts, a pedestrian plaza, and a luxury hotel on the old New Haven Coliseum site. Reim announced at Thursday's event that he can now expects "to have shovels in the ground by next summer." In a city accustomed to passionate debates over development projects, this one has enjoyed an unusual near unanimity of support from new urbanists, neighborhood leaders, government officials and civic leaders alike.
New Haven Mayor Toni Harp said that part of the city, which once attracted thousands to sports and entertainment events, will again bring people together. "Often people talk about their experience at the Coliseum site," she said, "so there is a lot of love and energy on that site. What excites me about this development is that it will again be a gathering place for people from New Haven and throughout the region."
The project is expected to generate more than 2,000 jobs.