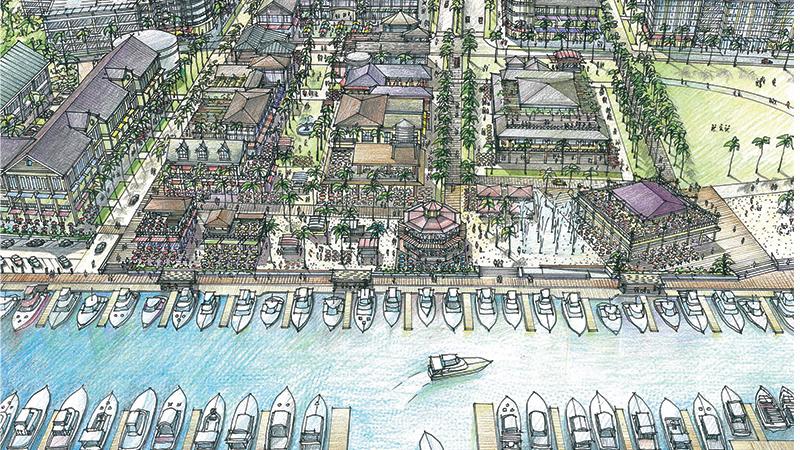 February 27, 2013

Palm Beach Post: "Approve Riviera Beach Marina Redevelopment"

Article by: Rhona Swan, Palm Beach Post

Direct Link: https://www.scribd.com/doc/127572726/Palm-Beach-Post-Approve-Riviera-Beach-Marina-Redevelopment-4-0

Enough had changed in the fourth iteration of Riviera Beach's marina district redevelopment plan that the city council should approve it tonight. Still unknown is whether enough has changes in the city to take the plan from paper to reality.

The plan calls for the Riviera Beach Community Redevelopment Agency to spend $29 million on improvements that will make the waterfront suitable for private investment. That money, most of which the CRA borrowed, will pay for marina upgrades, a 500-space parking garage and renovations to Newcomb Hall and Bicentennial Park. The council votes tonight in its capacity as the CRA board.

Previous proposals called for developers to make these improvements. This time, the city is taking the lead. That's what attracted LiveWorkLearnPlay, a Canadian company that specializes in creating mixed-use developments. Vice President Richard Martz said the city's investment "gave us a lot of encouragement."

LiveWorkLearnPlay would be an equity partner with Viking Developers. The company has been city's master developer since 2005, when Riviera Beach aspired to acquire hundreds of homes using eminent domain as part of $2.4 billion plan. Mr. Clark said the economy killed a 2008 plan that Viking proposed. In 2010, residents voted down a proposal by Viking and Rybovich under which Rybovich would leave half the marina for 25 years to service big yachts.

Mr. Martz said enough had changed when Mr. Clark approached him again about the new plan. It would use the CRA's investment to attract $245 million from private developers for shops, restaurants, apartments and tourist hotel. "The public leadership was more stable," Mr. Martz said. "A lot of the infighting had ended. (CRA Director) Tony Brown was a real game-changer for us in terms of someone who comes from the private sector and… understands the elements that go into building an economic and feasible development."

Another change is that the project has community support. In addition to information sessions for residents, Mr. Brown said, he has met with members of the Citizens Task Force, which spearheaded the referendum that sent Rybovich packing. He reports no similar criticism. Also, the plan provides plenty of public access and gives away no land.

After three decades of failure, Riviera Beach may be catching some breaks. A revenue windfall from Florida Power & Light Co.'s new generating plant enabled the CRA to borrow that seed money. Viking wants to maximize the value of property it bought for the first marina project. All candidates in the March 12 election support the project. Tonight's vote would give Riviera Beach the chance to show that the city can seize the moment.