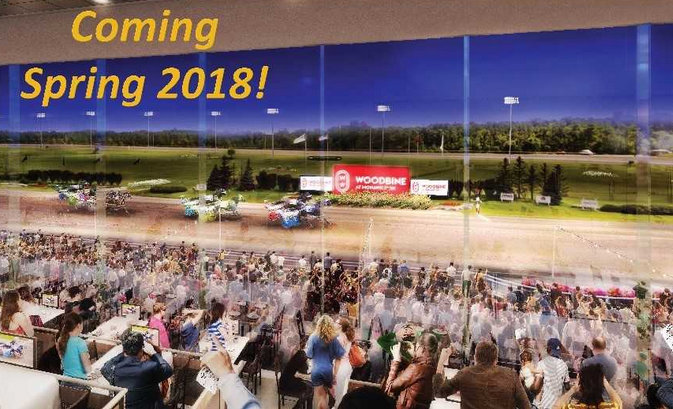 November 13, 2017

WOODBINE ENTERTAINMENT CONFIRM ADDITION OF SECOND TURF COURSE

Article by:  Sports Venue Business

Direct link: https://sportsvenuebusiness.com/index.php/2017/06/30/woodbine-entertainment-confirm-addition-second-turf-course/

Woodbine Entertainment Group (WEG), a world-wide horse racing and innovation leader, has announced that it will add a second grass course at the Woodbine Racetrack in 2019. 

The second turf track will complement the existing and renowned E.P. Taylor Turf Course, home to the Breeders'Stakes, third jewel of Canada's Triple Crown of Thoroughbred Racing, the Ricoh Woodbine Mile and the Pattison Canadian International.

Construction will begin in the spring of 2018 when the existing Standardbred racing track will be converted to a seven furlong turf course.

Jim Lawson, CEO of Woodbine Entertainment, said:
"This is an historic day for Thoroughbred racing at Woodbine. Enhancing our turf program with a second grass course, with its exciting additional racing possibilities and tremendous fan appeal, fits well with Woodbine Entertainment's core mandate of achieving the highest quality of horse racing."
Earlier this month, Woodbine Entertainment announced plans to invest over US$10m in the company's Campbellvilleracetrack, allowing Standardbred horses to compete at Mohawk year-round. Standardbred horses will race at Woodbinefor the final time in April 2018, paving the way for a second grass course at the track and dedicated facilities for each breed.
Woodbine Entertainment will also undergo a corporate and racetrack rebrand to be rolled out over the next 18 months. Highlights of the rebrand include a modern logo, bold colours, eye-catching fonts and the tagline, "a new breed of experience."
Both the Toronto and Campbellville racetracks will be known as Woodbine with the western GTA track retaining its history through the use of a location descriptor, Woodbine at Mohawk Park.
Lawson said:
"The Woodbine brand stands for integrity and world-class racing product, for both thoroughbred and standardbred racing. Woodbine Entertainment's future growth will come from international markets. Our powerful regional brand will seek to become a powerful global brand. This is why we will become one brand, to grow our racing product internationally."
The new branding, dedicated facilities, and second turf course support the company's property development plans to develop the value of the lands at Woodbine Racetrack to create a sustainable future for horse racing in Ontario.
The catalyst for the development and increased investment in the facilities is the result of expanded gaming being conditionally approved by Toronto city council in 2015. The site's current gaming operator, the OLG, secured a long-term lease with the racetrack and will announce a new private gaming partner later this summer as part of the OLG's modernisation plan.
Woodbine Entertainment has developed a master plan to create a city within a city in northwest Toronto. The plan sets out a detailed roadmap that will create thousands of new local jobs in the community, introduce new fans to the sport of horse racing and be a transformative project for the City of Toronto in the years to come.